Kidron Refrigerated Box Truck For Sale
Refrigerated truck bodies have changed the way food and drink are transported around the globe. That is why Kidron has been an active partner in the truck transportation industry since 1946. We have been committed to designing and manufacturing truck bodies and trailers that deliver optimum productivity in the distribution of refrigerated cargo.
Our refrigerated distribution truck bodies and trailers are designed with you in mind. They are great for both mechanical and cold plate production protection and we have set the industry standard for thermal efficiency. If you are looking for a Refrigerated Box Truck For Sale, contact us for a quote.
Not only will this truck keep your cargo cool, this unit can also handle the rigors of frequent stops and changing temperature requirements. Our K2 truck bodies, and refrigerated trucks have no problem driving through city streets and sustaining the desired temperatures despite frequent door openings.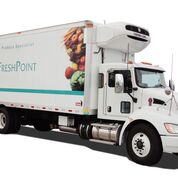 Refrigerated Box Truck For Sale Bodies & Trailers
If you're on the go and are required to take multiple stops, Kidron K2 truck bodies, and refrigerated trucks are for you. Kidron continues to prove their dominance in the refrigerated truck business with specialized compartmentalization options to transport and protect all refrigerated cargo including but not limited to, ice cream, milk, and produce. If you need certain accommodations, Kidron has other options designed for specific cargo needs and delivery requirements.
Each of our K2 truck bodies, and refrigerated box trucks for sale, comes with our patented cold shield. This Cold Shield makes it possible to maintain desired temperatures, recover quickly, and keep our customers happy. With our cold shield, up to five inches of non-CFC polyurethane is poured between inner walls and aluminum panels to hold temperatures. Also, our state of the art foaming process consistently measures and controls temperature, ratio, and mix. Our Pressure-Pillow Seal Doors with two seals at 90-degree angles virtually eliminates air passage. With no air passage, the cold stays in and the heat stays out. Finally, impermeable interior liners reduce foam out-gassing to keep your cargo fresh.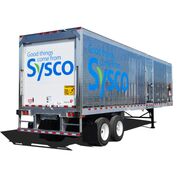 Refrigerated Box Truck For Sale
At Kidron, we make it a priority to provide our customers with the best-refrigerated box trucks for sale. If you have any questions or are interested in one of our K2 truck bodies or our other refrigerated trucks and trailers, feel free to visit our website. No one knows cold like we do!